1 ) Who are you?

I am Sascha
.
2 ) How old are you?

15 years old.

3 ) Where are you from?

I am from Germany.

4 ) How long have you played TW?

I play TeeWorlds since 2012. Than i Play it 2 years and than i was inactive since 6 months. And now i play TW again and active.

5 ) What is your in-game Name

Dragonzer0 and now peC.

6 ) Why do you want to join ChickenMilk?

I want to join ChickenMilk because i saw nice guys with skill who plays ctf. Ctf is my favourite mode. And i play a little bit Instagib.

7 ) If you had a nuclear warhead and had to destroy Norway or Sweden. Which one would it be?

I would destroy Norway because i like sweden really.

8 ) Do you like Meat or Fish best?

I like fish more.

9 ) Do you have any hobbies besides collecting toe nails?

Yes. I make sport.

10 ) Make a chicken-poem for us

Chickens what threatens you for a grief,
The fact that you have even got a fright?
Do you notice the fox there listen in in the quiet one?
Are without worries for his sake!
Guard, the loyal, already saw him
And hunt him away with mockery and Hohn.
Since then it went well to the chickens,
They were there in sure care,
They clucked on the court gladly,
And laid some white egg in the straw
And slept quite quietly the whole night;
Since guard, the good, held continual guard

-peC



Number of posts

: 4


Joined

: 2015-08-09



you applied with another name, but same
application
besides the tw names? that's weird... i saw that tan asked to close the "wHat" app, but tbh it is silly to use nearly the same application just with other tw names with the same forum account
So what is the reason for that "game" here? just that comment of tan that you applied for evil? you could have explained that you got rejected there and now wanted to join chickenmilk. would have left a better appearance of yourself than using the same application again with different tw names, trying to trick us
_________________
Greetings,

~Cookie Giving Female Rooster Chicken Chief Half and Queen~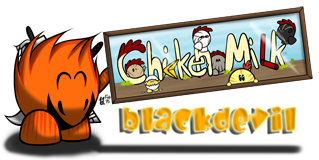 Number of posts

: 646


Joined

: 2014-10-13


Age

: 24


Location

: On dreaming chicken island



No i wont trick you..... No, i did a fail. I make 2 Applications for 2 clans in the same time. That was bad, im so sorry. I will join ChickenMilk really and i wont make fun of you. I found the name wHat is boring so i changed my name to peC and it will my name forever. How can I close the Apply from wHat? I dont know but I wont trick you really and it was thoughtless of me , I have made ​​2 because if I'm not accepted entwerder so I can join another clan of EVIL or from you directly . Since EVIL does not want to have me so I still hope that I can give milk with you .

Forget the 1. Apply easily and I delete the 2nd is the right one. Sorry




Number of posts

: 4


Joined

: 2015-08-09



Your explanation message is welcome

We look forward to accept a new chicken in our wonderful clan. If you use Skype, contact me (m80116) and I'll add you to our main conversation.



Number of posts

: 189


Joined

: 2014-10-14



REJECTED

_________________
Which day of the week do chickens hate most?
Fry-day




Number of posts

: 238


Joined

: 2014-10-17


Location

: On dreaming chicken island




---
Permissions in this forum:
You
cannot
reply to topics in this forum