Hi,
I'm Christopher, aumgn in-game, (if you're wondering what's the origin of this nickname :
https://www.youtube.com/watch?v=XP-_C2IXx6A,
pretty weird right ?)
I'm a 23 years old french student in computer science, passionate about programming, soccer, chocolate and chocolate (Yeah, twice).
I used to play minecraft a lot (and create plugins for it), I'm now fully dedicated to teeworlds and Ingress (Resistance will save the world !).
I've been playing teeworlds for about 4 years. Some period more than others but rather constantly since I started. I mostly played dm until only recently when I got more and more interested in ctf. But I guess ctf is more fun when played in team with communication and tactic; that's why I'd like to join a clan. I would say I'm at least a fairly good player (well kind of ridicoulous actually compared to some of the players here) but I still need to learn some skills more specific to ctf. ChickenMilk seems like a fun clan with really good players (which is what teeworlds is all about (skill & fun)). Plus, the name is f*****' awesome.
7 ) If you had a nuclear warhead and had to destroy Norway or Sweden. Who would it be?
Err, that's a hard one, please don't make me choose !
8 ) Do you like Meat or Fish best?
Fish ? What's that ? Never heard of it.
Finally :
Chicken, you cannot fly, silly goose
I'd like to set you free
But I need you (well your eggs more precisely)
to make Chocolate Mousse
Last edited by aumgn on Fri 30 Jan 2015, 5:29 pm; edited 1 time in total



Number of posts

: 2


Joined

: 2015-01-17



Hey there!
Looks like a good application for me.

I think i have seen your name before but can't remember exactly.
Gonna add you to our Skype group if you dont mind.
See you
_________________
3.. 2.. 1.. Let's jam!
#TeamPenguin



Number of posts

: 165


Joined

: 2014-10-13


Location

: Bavarian



Hello Christopher. Im going to be very honest about this application, very honest.
Yes, one of better ones I've seen in a long while. Plenty balanced information and you seem mature. In-fact I've seen you in-game a few times today already

Hope to see you a bit active in skype & teamspeak as well!
You might fit here!
Remember, we play because it's fun, so "alot" of humour is a big plus in my opinion

Im looking forward to play with you.
Enjoy your stay here with the awesome Chickens

_________________
Which day of the week do chickens hate most?
Fry-day




Number of posts

: 238


Joined

: 2014-10-17


Location

: On dreaming chicken island



Quite a good app

i like it

_________________
Greetings,

~Cookie Giving Female Rooster Chicken Chief Half and Queen~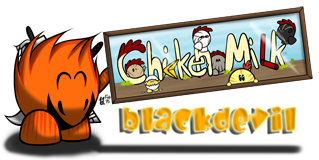 Number of posts

: 646


Joined

: 2014-10-13


Age

: 23


Location

: On dreaming chicken island



such a deep poem!
I totally get it!

_________________
Dah Fuck!?



Number of posts

: 80


Joined

: 2014-10-13






Number of posts

: 35


Joined

: 2014-10-19



In the name of ChickenMilk i welcome you to the henhouse!



you are now a chickenmilk member yey! *throws a party and gives cookies to all*





_________________
Greetings,

~Cookie Giving Female Rooster Chicken Chief Half and Queen~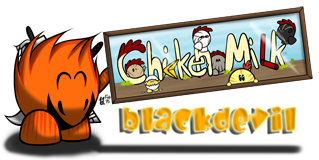 Number of posts

: 646


Joined

: 2014-10-13


Age

: 23


Location

: On dreaming chicken island





Similar topics
---
Permissions in this forum:
You
cannot
reply to topics in this forum