Hi there!
My first name is Liam, i am 15 ½ and i am from England (Cornwall specifically), I've played Tee worlds now for around a couple of months (i logged on last year, but my name has changed while playing a lot compulsory, i aim to stay at this name now) My In-Game name is 'NO Team Hooker' i will always have 'Team Hooker' as my players name, this wont change whatsoever, i promise, i want to join chicken milk because i want to be an active helpful part of the community, i aim to always be online during the weekends (unless i cant) and i just generally want to make the server a better place, not that it already isn't with all the amazing admins here on chicken milk!, i have been known for being very immature however, i can stop the stupid act, i have resisted bans and have cheated, i rarely cheat by the way, but i promise you all that i can stop that, if there is a way to figure out permanent banning ( using MAC ADDRESS, Range ban ) i could give suggestions to you guys, i will look into the lua scripts of Tee worlds and the official server program to see if there is a better option.
If i had a nuclear warhead? ha! Norway, hail Sweden/svenska ar den bast! in all of its glory, i would drop the bomb straight on Norway, please take no offensive if you like Norway, i cant destroy my favorite country.
I like fish, how can you hate fish? i bathe in fish, favorite
dish
is fish/mussels
The only hobby that i can think of apart from collecting toe nails would have to definitely be eating human, i love the taste of decaying mushy flesh, the skin is so easy to bite into, 10/10 would dish again - Gordon Ramsey,  Now in response to your request, i am going to write a simple poem for all of beautiful administrators! XD: in fact ill give two
1) chickens are red, violets are blue
i cant poet very well
neither can you!
2)Milk The chicken
even if you don't see the point
I like to bite off the heads of chickens
Not sponges, or head cheese or toe lint
Sorry about my lack of poetry skill

A lot of you probably know me for being immature, i would spend time messing around and ruining the fun that the other players were trying to have, i can stop this act of stupidity forever, you wont see me acting like that again, i will also put a leash on me verbally, i wont go around with any offensive remarks/ Swearing, swearing especially will be dropped, i only ask that you give me one chance, if i happen to blow it (Which i will not) then i do not deserve the title of an administrator, i can seriously pull my act together and get this heading the right way, i just want to help you guys out, all the admins have been helpful and have taken their time talking and interacting with other players in the server, for the same reason i want to make the server a pleasurable place to be in, I promise that these changes that i have made will be applied immediately, As of i submit this application form i will change.
Thank you, let me know if there is anything else that you request from me, i
will
try my best.  Again, thanks for putting up with me.  

Thanks for the application. you did a good job there and seem to really be willed and wanting to join.
Sadly ur "just" 15 and a half and we had put the age to join at 16, so we would have to discuss it if we let that go through or not.
BUT i am still not happy at all with that "joke" about the twin towers you told on the server. that really has to stop. i will give you a chance but if i see you doing such things one time ur out. those things just don't belong into the chickenmilk clan and i want you to understand it. also i just want you to know that IF you come into the clan you won't get a password of the servers, no chicken does. only if you would become a rooster you might get a chance to do so but that will take time.
But all in all good luck and we'll see how your application turns out in around a week when more members said something to it.
_________________
Greetings,

~Cookie Giving Female Rooster Chicken Chief Half and Queen~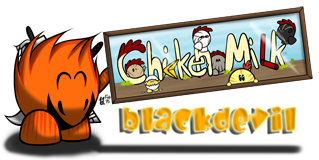 Number of posts

: 646


Joined

: 2014-10-13


Age

: 24


Location

: On dreaming chicken island



Hello! Im glad you made the application. So basically I see alot of motivation in you, but since you're kinda young, we will see how it goes. Since... we don't want our ChickenMilk clan to be attached to childish behavior. (Like Blackie said)
But as for everyone that does apply here, you will get a fair chance as well, as everyone else.
So goodluck and enjoy your stay here

_________________
Which day of the week do chickens hate most?
Fry-day




Number of posts

: 238


Joined

: 2014-10-17


Location

: On dreaming chicken island



I appreciate both of you taking your time to look at my application, i promise you that you wont see anything bad of me again.
I can prove that i will stop my immature act. Thanks for responding

Rejected due to age and behaviour!

_________________
Dah Fuck!?



Number of posts

: 80


Joined

: 2014-10-13



You are free to come back and try to apply later when you've proven yourself in the servers for a while.

One plus for alot of information in your application here and also a big plus you talk alot in the servers, socializing are important in our/my opinion.

Goodluck and enjoy playing with us in-game, until next time!
_________________
Which day of the week do chickens hate most?
Fry-day




Number of posts

: 238


Joined

: 2014-10-17


Location

: On dreaming chicken island




---
Permissions in this forum:
You
cannot
reply to topics in this forum