Alucard wrote:On various CTF servers, there are players with nice personalities, good skill and they are, believe it or not, clanless… Well, at least they were.

Few months ago, Shit and TwoHit started a small project called ChickenMilk, a project to unite mid lvl players from different servers and put them together into one team. ChickenMilk is some sort of a fun clan which is leaning more on character than on skill. Besides producing high quality milk and laying eggs, they are bringing hope to the Vanilla scene. Even though they are mostly ctf5 players, they know how to use guns and how to move, so beware when you are playing against them.

Besides, ChickenMilk is also trying to make a bridge between the beginners in TW and "pro" scene. Introducing the wide spectrum of challenges lying beyond the average ctf5 match. Even if the name sounds funny, this is a project/clan which brings the potential to sustain for a long period.

-
Just wanna write a sidenote. Alot of clans starts as a funclan, but becomes more like a serious clan with "pro" players! I will not allow this to happen with ChickenMilk.
Skills is a result of having fun with fun people. To maintain these values we should never:
1) Talk down on other chickens
2) recruit based on skills
3) Do things the way other clans does it when it comes (homepage, recruiting, socializing)
The moment you stop having fun, tell me, and let me know why, so we can eliminate the reason. Thank you!
-Shit

_________________
Dah Fuck!?

Shit




Number of posts

: 80


Joined

: 2014-10-13



-> link to it http://tw-clanzone.com/introducing-chickenmilk/
_________________
Greetings,

~Cookie Giving Female Rooster Chicken Chief Half and Queen~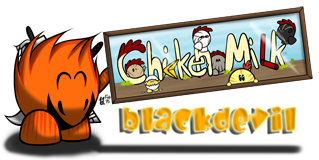 A small advice, not only for the leaders, but for each ChickenMilk member:
as a member - ALWAYS talk to your leader if you are having problems with other members or similar
as a leader - ALWAYS talk to your member/s if you smell that there might be trouble

hiding a problem won´t ever resolve it.

look at your clan like this:
the forum - your home
the servers - your playground
the teammates - your family


_________________


TW-Clanzone




Number of posts

: 43


Joined

: 2014-10-23



It was kinda late for me to read this post Fishy, but I really liked it. I so agree with you 110 % on this one.
Yes, everyone should go read these posts from time to time, it's good to keep this in mind.
Good job!

_________________
Which day of the week do chickens hate most?
Fry-day


Oscy




Number of posts

: 238


Joined

: 2014-10-17


Location

: On dreaming chicken island




---
Permissions in this forum:
You
cannot
reply to topics in this forum