1 ) Who are you?
Jack
2 ) How old are you?
29
3 ) Where are you from?
USA
4 ) How long have you played TW?
Off and on since 2009
5 ) What is your in-game Name (may write former names awell)
sage
6 ) Why do you want to join ChickenMilk?
I have a great time playing on the ChickenMilk servers and all the members I have interacted with have been a lot of fun. I'm not great at the game, but would like to have a fun group of people to play with. Plus, a lot of the people seem to be quite good with Linux/computers.
7 ) If you had a nuclear warhead and had to destroy Norway or Sweden. Who would it be?
Let's see... black metal or death metal... I'll keep death metal (Sweden)
8 ) Do you like Meat or Fish best?
Meat
9 ) Do you have any hobbies besides collecting toe nails?
Weightlifting, learning about computers
10 ) make a chicken-poem for us
Chicken Chicken on the wall
Who's the plumpest of them all
Roasted, grilled, baked or stewed
Chickens taste wonderful, just make sure you chew
One chicken is good, but seven are better
Eat them in winter while wearing a sweater
Now let your chickens out of their cage
For chickens are smart, wise as a
sage
(see what I did there???)
FreeStyle: Write whatever the fuck you want:
I started playing Teeworlds because it works on Linux. I also played Brood War and Starcraft 2 quite a lot. I like sysadmin type stuff and play with VPSs for fun. I host a Teeworlds server, but no one plays on it

Your Skype adress:
codenamesage
Thx for the app sage. One of the best ones we had yet i'd say

really liked ur poem and awesome you put ur name in it that's a +

So good luck man

Ps.: we will get ur server active if it has a good ping

_________________
Greetings,

~Cookie Giving Female Rooster Chicken Chief Half and Queen~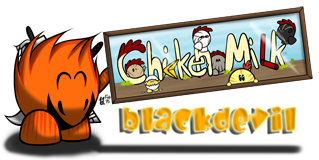 Number of posts

: 646


Joined

: 2014-10-13


Age

: 24


Location

: On dreaming chicken island



Greetings Sage.
Well written I'd say as well. And yes Linux is the reason I started playing back in the day as well

You seem nice. And as you probably already know we have some applicants already but that won't be any issues...just stay active, in-game and skype so we can figure your personality out

Enjoy your time here!
Oscy
_________________
Which day of the week do chickens hate most?
Fry-day




Number of posts

: 238


Joined

: 2014-10-17


Location

: On dreaming chicken island



_________________
Which day of the week do chickens hate most?
Fry-day




Number of posts

: 238


Joined

: 2014-10-17


Location

: On dreaming chicken island




---
Permissions in this forum:
You
cannot
reply to topics in this forum